Non Profit Solutions
Go to: Green Activities
31

-

01

-1

3
An eco-social project by the River Hoai
At U Cafe Hoi An we use bio-filtering system for our water disposal. All of our water output is purified through the filtering tank (which has 28000 empty Yakult bottles inside to breed bacteria), fed into the lotus and goldfish ponds on the ground, first and second floors of the Cafe, and flows into the river Hoai.
With no public sewer system and Unesco World Heritage related restrictions, the old Hoi An centre sees little alternative to water disposal, pouring polluted water straight into the river. In return for preservation of the ancient houses and townscapes, residents struggle to renew or implement individual sewer system without changing the structure of their houses.
We measure water quality of our ponds and the river Hoai to monitor and see how much more we can do. There are other projects that tackle the water pollution issues too. These are our first small steps and paddles to clean the water in Hoi An.
By Tomo
Hoi An U-Cafe
Thanh Nam Cam Chau
(just after Petrolimex and Song Thu restaurant)
012 2545 3248 (Reiko)
deziraspacon@gmail.com
23-09-12
UNIDO gives Hoi An solid waste treatment solutions
The United Nations Industrial Development Organization (UNIDO) has suggested several solutions to Hoi An Town authorities in an effort to help the ancient town deploy solid waste management strategy in an efficient way.
UNIDO experts suggested Hoi An to deploy 4R solution (Reduce, Reuse, Recycle and Reject), meaning reducing waste discharge and gas emission, using recycled materials, classifying waste, using centralized waste treatment plant and charging heavy polluters.
The city is advised to call on all business sectors to join in the initiative in a bid to raise public awareness, arrange solid waste collection plans and promote gardening in town.
Moreover, local government is told to set out incentive policies to attract businesses specializing in the recycling industry into the town and impose strict penalties on violated firms.
The town, recognized as a world heritage site, is facing difficulties in environment management in areas of control of solid waste emission and sewage discharge, and promoting energy efficiency as its population density is six times higher than the national level. That is not to mention the rising number of tourists flocking there.
A survey showed households and residential areas discharge 85-90% of total amount of solid waste. The remainder is discharged by markets, hotels, commercial centers, state agencies, schools, handicraft villages and farms. Organic solid waste accounts for 70% of total amount.
Hoi An is expected to see its population rising to 103,000 people by 2030, discharging 29,750 tons of solid waste a year by then. If the estimated number of tourist arrivals of some 5.3 million is included, total amount of solid waste will amount to 47,500 tons per year.
A beautiful new initiative comes from
Nick Shirra,
Agri-Marketing and Business Specialist currently living in
He build the dryer below too dry agricultural products. It's mentioned to improve certain agricultural techniques against low costs. Very important the products are easy to make, maintain and repair by the people who use these dryers in rural areas.
The finished dryer!
Nick Shirra, Agri-Marketing and Business Specialist
To 5, Thon 2, Cam Thanh, Hoi An, Quang
Nam
Solar Serve Danang
Purpose
Solar Serve

not only supports charitable projects but also runs a social green enterprise. The aim of both is to benefit all people, poor and rich, with alternative energy and helping them to use it properly. It will also provide jobs for local and disadvantaged people in building the devices at our Solar Serve center.
SOLAR SERVE STAFF
Staff, friends and children during a picnic at the Elephant waterfall in 2011.
Many people in Vietnam still depend on coal, straw, leaves or wood for cooking. Open fires contribute to air pollution and cause lung and eye diseases owing to people spending time in hot and smoky kitchens. This traditional cooking method also compels women and children to walk for hours each day to find wood for daily cooking.
Vietnam receives 1400-2000 hours of sunshine per year in the north and 2000-3000 hours per year in the central and southern part, but not many people take advantage of solar energy for daily cooking. Only one basic solar cooker is needed to save lives, money, time and even the environment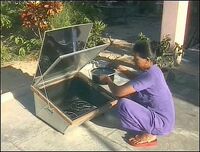 Since 2000, simple solar cookers for cooking food have been introduced by Solar Serve in Vietnam. 1500 families (updated 2008) have been provided and almost 79% are using these solar cookers frequently. People have been able to save money, time and even improve their health.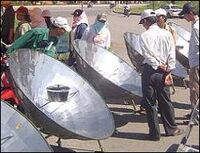 The use of solar cookers requires changes in cooking habits, food, and food preparations. Therefore a solar cooking training program was set up by Solar Serve. The aim is to provide teaching and training through workshops, home visits and group meetings.
Over the years, local people have progressively adopted solar cooking as an alternative cooking method. Therefore Solar Serve hopes to benefit more people in cooking with free solar energy in the coming years.
Since 2000 we have been making hundreds of solar cookers and parabolics and now we have also been asked to install solar hot water boilers and solar panels in Vietnam. The video clip shows the installation of the first grid-tie solar power system, containing 32 solar panels, on a school in Danang - Vietnam.(May 2011) Solar Serve is involved in business and charity projects in Vietnam. More information on video clip.
Contact Us
Nguyen Tan Bich (Director)
Solar Serve Center - Lo 24-26 B2.7 - TDC Dong Hai
Hoa Hai Ward - Ngu Hanh Son District - Danang - Vietnam
Tel: (84-511) 3967108 - Mobile: 0919 511 552
Go to: Green activities